We are so so excited to celebrate 11 years of business on Friday! This is a special anniversary for us because in 2007, we opened on this very same day…to the tee. Friday the 13th! Friday, April 13th, 2007 is such a special date and in honor of 11 years, here are 11 quotes from our employees expressing how they feel about The Trendy Trunk. We created a word cloud that picked out the words most frequently used in these quotes…we definitely feel like it represents us well! Enjoy!!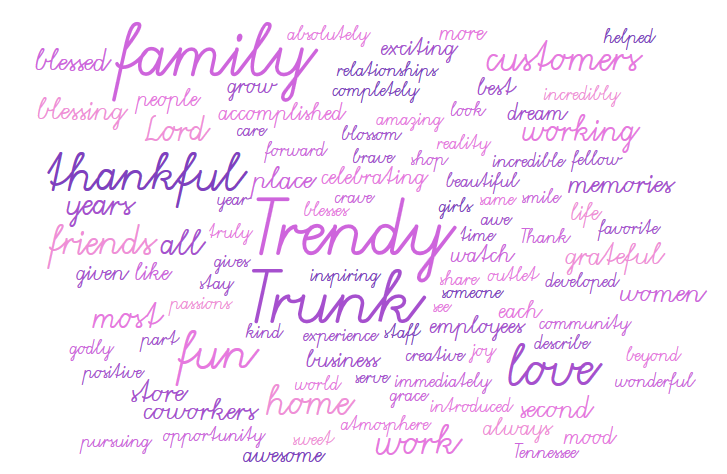 "The Trendy Trunk has become my home away from home! Many of my friends from high school went away for college, so when I decided to stay at Vol State I was afraid I would be alone but the minute I started at Trendy I felt like I was a part of their family! Every single one of the girls have become some of my closest friends and I wouldn't trade this store or these people for the world!!! I love my Trendy family!" - Kayce Chance
"I am thankful for The Trendy Trunk because it has helped me grow in so many ways! I started at the shop when I was just 16 and here I am at 21 pursuing a business degree because of the years I spent here. The Trunk is my second home and I couldn't be more thankful for the experience, memories, and family that it has given me!" - Kristen Chance
"I am extremely blessed to work at The Trendy Trunk. The minute I walk into work I immediately have a smile on my face. This place is a family." - Olivia Holloway
"I am thankful The Trendy Trunk has introduced me to so many sweet people from fellow employees to our community and given me an opportunity to work for one of the most inspiring women ever, Mrs. Deanna Williams." - Lauren Lewis
"I love how The Trendy Trunk has become my second family. I am thankful for all the relationships with staff and customers I have developed while working here." - Emmie Barnett
"I love working here because it gives me the creative outlet I crave without the high pressure of a corporate atmosphere. We truly care for each other like a family." - Mary Rainey
"My favorite thing about working at The Trendy Trunk would definitely be tied between working with such kind, fun, and positive women and getting to serve all of our awesome customers. Some days I may come in feeling down or stressed for whatever reason, but I always leave in the best mood and it's always my coworkers and customers who completely turn my mood around!" -Sydney Askins
"I'm so very thankful for The Trendy Trunk! They have become my Tennessee family after moving here recently from North Carolina." - Susan Barron
"I absolutely love Trendy Trunk and all that it stands for. I am blessed to work with godly women that share the same passions as I do. It has been exciting to watch the store grow and to see how the Lord blesses this business each year." - Ashlee Hall
"There are simply no words that can accurately describe how thankful I am for The Trendy Trunk. It's obviously the single best place to work EVER, filled with the most incredible coworkers and customers. (DUH!) One of the reasons I am most thankful for the store is that, as a young teenager, I got to watch my mom blossom. She had a dream and made the brave decision to go after it. 11 years later, here we are, celebrating this dream and the amazing reality it has become. I am consistently in awe of not just what she has accomplished, but the grace and joy in which she has accomplished it. I love this place so much. My coworkers are my family and I simply wouldn't trade this life for anything." - Cara Collins Holmes
"The Trendy Trunk and all of my girls have been a complete surprise in my life and I am so very thankful for each and everyone of them. The shop has definitely taught me what TOO CUTE really is. Thank you all for your support and accepting The Trendy Trunk into Hendersonville for 11 years. God Bless you all!" -
Dana Williams, owner
And from the woman who started it all…
"I am beyond blessed to have met some incredibly awesome customers who I can say are life long friends, I have a second family with the wonderful employees that we have here at The Trendy Trunk and every time someone walks through these doors I am so grateful!!!! Thank you all for 11 years of the most fun and exciting years and I look forward to many more!!!!" - Deanna Williams, owner
Thanks for being our amazing customers and supporters. We could NOT be here without you. We'd love for you to come visit us at our birthday celebration Friday & Saturday here at the store! See you soon!